"World Class" Handball Court Systems and Services
Handball courts construction, installation and building for homes, gyms, sports centers and athletic clubs
---
Typical Typical Handball Court Configuration (Showing Optional 20′ x 12′ Glass Rear Wall)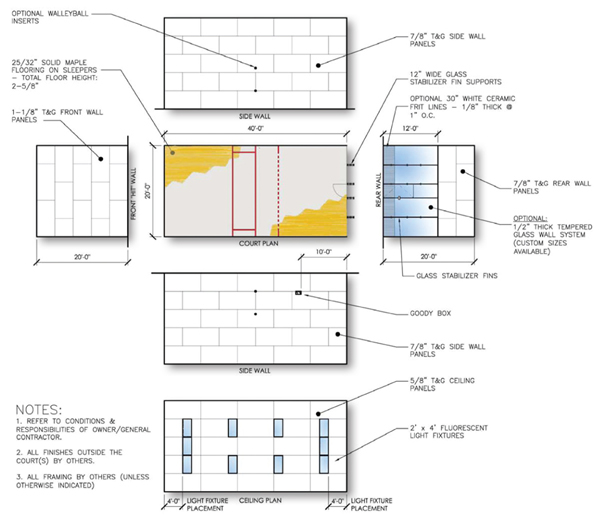 Regulation Handball Court size is 20′ wide x 20′ high x 40′ long (inside playing dimensions) Custom configured courts are also available to meet your project requirements.
Our "turn-key" Handball Court System Includes:
Light gauge steel framing for the walls and ceiling • High impact wall and ceiling panels • Solid core flush mounted door system • Maple floor system with padded sleeper underlayment • Impact resistant light fixtures • Wallyball kit • Goody Box • Optional glass door or glass walls
Download our Racquetball Brochure


pdf file
View Online in FLASH format – Racquetball Brochure

Whether it is a complete Handball court system supplied and installed or just selected materials to meet your project requirements we ship anywhere in the country. With our expertise and available CAD and PDF court construction drawings, we can help you design your court system(s) for any indoor application. With over 16 years experience and involvement in hundreds of installations throughout the world we are well qualified to work with you towards the successful completion of your project.
---
Allied Products can take care of virtually all of your commercial and residential handball courts construction, sports surfacing and flooring needs including:
Design Assistance • Architectural Specifications • CAD (and PDF) Construction Drawings
Construction of New Courts • Renovation of Existing Courts (See our "Re-Wall" System)

High Impact wall and ceiling panels are the most important component of the court system. Our 4′ x 8′ tongue and groove (T&G)wall and ceiling panels incorporate a high density particle board core sandwiched between two layers of plastic laminate.These features result in a very dense, extremely tough surface designed to withstand the rigors of professional play and comply with USA Racquetball Association specifications. In fact they are so tough they are actually used in other applications such as lining gymnasium walls and jail holding cells.
(Custom laminate colors also available).
We can provide any variation of athletic court that you may require, whether it's just selected materials or a full court with our installation services.
High Impact Sports Glass Walls
custom manufactured to fit your project requirements